day #5 - Adorable
By Lalla Pratami - Selasa, September 28, 2010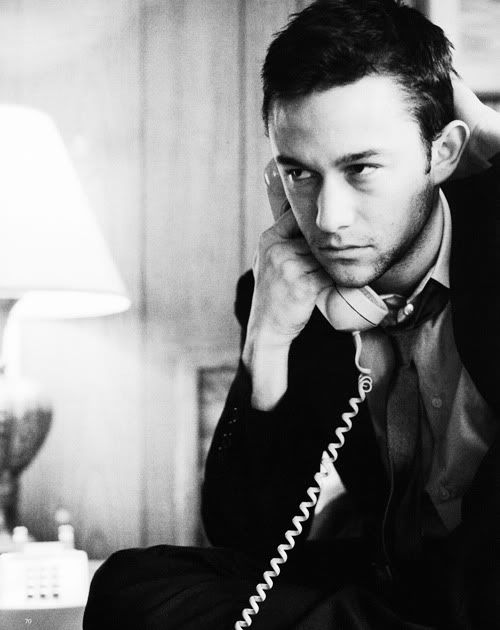 a·dor·a·ble
[əˈdɔːrəbəl]
adjective
: delightful, lovable, and charming
(The American Heritage® Dictionary of the English Language)
Dear Joseph Gordon-Levitt,
I know I'm not your biggest fan nor the only one who love you. I'm just another 20 years old girl who love to search your photos everynight, dig your videos--especially hitrecord.org ones, read your tumblr, and watch your movies on weekend. I know I sound pyscho but I'm not.

You're amazing.
Maybe you're tired when people tell you that you're amazing. And I'm sorry I have to say this once more. You're amazing. Your acting was brilliant. I love it when you play the guitar while you're singing. You look sexy with your beard. Your smile was beautiful, I'm melted. You look so handsome with shirt and tie. You're sweet, it seems like you're the cutest boy I ever like.

It started when I re-watched 10 Things I Hate About You, then I realized that I never knew that you're this sweet. You looked small, tiny, but there's something inside you that bigger than your body.

And you made me rolling-on-the-bed while watching Mysterious Skin. You made me smile on the whole 500 Days of Summer movie and I wish I were Zooey Deschanel even more. You made me scream when I watched Havoc just because I really love your hair there. You, simply made me lame. And I hate you because of it.

I love it when you replied tweets. You're friendly. You're down-to-earth. You didn't act like such an actor who play in big movies. You keep your feet stay on the ground. You don't let them fly up in the sky.

And it's Inception.
You played awesome there, people know that--people agree with me. Even when you slept--but smiling while sleep, you looked gorgeous. I had to watched Inception more than one because it's you who made me unconcentrate in some parts. It's you who's being the center of my attention. It's you the reason I re-watched Inception. It's not Leonardo DiCaprio nor Christopher Nolan, it's you.

You're not a big fish in the small pond. You're not a firefly in the light room. You're the star in every night, which always sparkle no matter how much another stars in the dark sky. You have your own light and glow with your own way. You're shining, brightly. And I dazzle.


And after all, I feel I'm enchanted by you.


Because you're so adorable.
Period.



"I've played the smart kid, the funny one, the nice sweet one, even the angry one, but never the sexy one."
(You don't have to play the sexy one to prove the world that you're sexy, darling.)